I've been so busy "doing L

I

F

E

" lately
that I haven't had much time to "make" anything.
All I can say is ...
I was having major anxiety
.
MY brain is
creating
all the time, or at the very least
thinking of something to
create
and it needed OUT !!
So.. today I made a necklace..
I can hardly wait until tomorrow to wear it.
If it had a name it would be STACI. haha
I'd seen one while I was BLOg hopping one day,
and have kept the idea stored in the back of my head.
Her version was so darling I wanted to
reach right through this screen and

grab it.
I started off with no real idea what it was going to look like.
I just started making flowers and let the rest fall into place.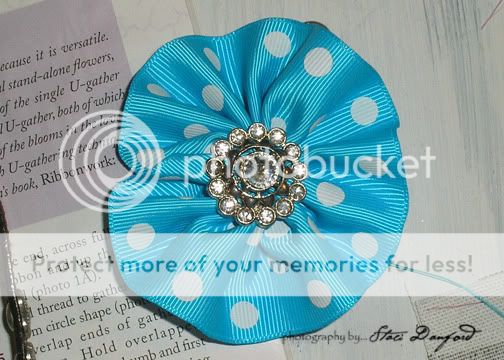 Then I remembered a whole jar full of broken jewelry
I bought at various garage sales and thought I might
use a piece or two of it in the mix.
I can explain how to make all the different types of flowers
if anyone is interested just drop me a note and I will
be happy to explain.
They are all

SUPER

simple to make.
I used about 4 or 5 different types.
ce
She attached hers to felt, and if I would have had some
I can tell you it would have been much easier.
Anyway.. after 3 burns to my poor fingers
from that darn glue gun

...
I got the flowers attached,
and was ready to sew it onto the chain.
That too would have been much easier with FELT,
but I wanted it NOW... so I just used what I had.
IT
This necklace is not for everyone... I know,
It's the funnest thing I've seen in a while.
Thank you Joy's Hope for the fabulous inspiration !
That's the best part about BLOg hopping...
You never run out of places full of GREAT inspiration.
May we be constantly on the look out
for the little things
that make us SMILE..